Street food has become increasingly popular over the last several years, especially in big foodie cities like Denver. It's only natural that couples want to incorporate their favorite foods into their wedding day, and mobile food trucks are a great, budget-friendly way to do just that.
Many venues, however, don't have a convenient space for food trucks, or require you to use their preferred catering options.
Curious to learn about a selection of venues in Denver that do allow food truck caterers? We'll take you through a list of venues that allow food trucks for catering services, as well as some of the best local food trucks in the Mile High City.
Denver Area Wedding Venues That Allow Food Truck Catering
Again, not all venues allow you to book food trucks for catering. Here is a list of venues that allows you to choose a food truck in Denver.
SKYLIGHT
SKYLIGHT's blank canvas space is perfect for couples to get creative with everything from decor down to their food. Our patio space has a large gate perfect for food trucks to park and give your guests a true food truck park feel, while still remaining elegant. Concerned about logistics? Don't be! SKYLIGHT's Planning team will take care of everything so that you can sit back and relax on your event day.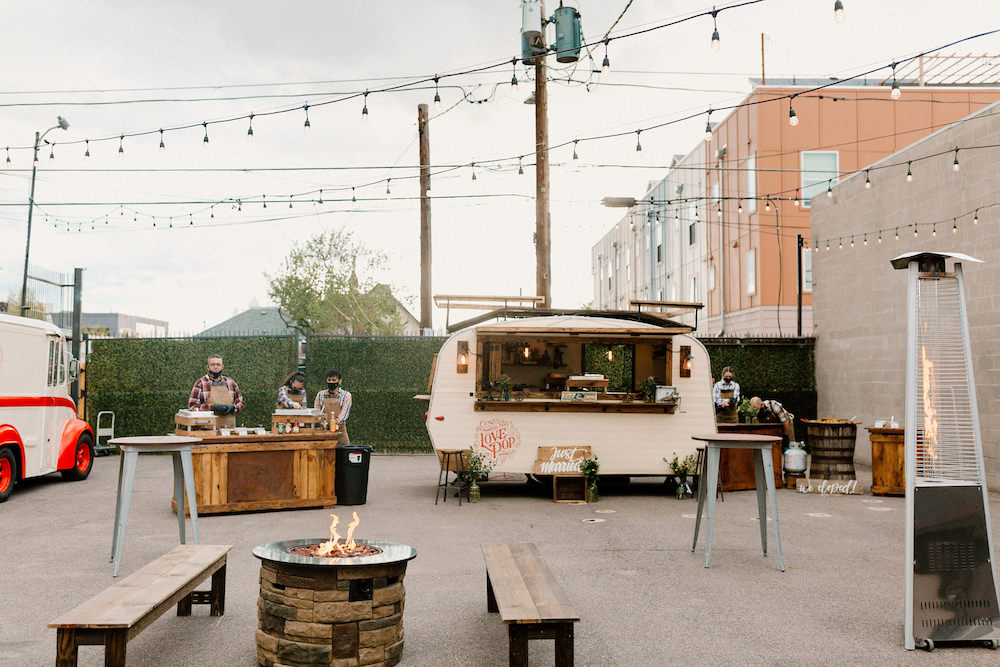 Grant-Humphreys Mansion
This classic 1902 mansion is located just steps from Governor's Park. The historic venue offers an elegant setting in beautiful Denver. Grant-Humphreys Mansion's catering policy is to choose from their preferred list, or pay a buyout fee to choose an alternative caterer.
Blanc
Located in the heart of the RiNo district, Blanc is an eclectic venue with multiple event spaces. Blanc allows food trucks for dessert or late-night snacks.
Rag & Bale
Rag + Bale is an industrial-style nonprofit event space close to downtown Denver. The venue has a "BYO" catering policy and plenty of room for a food truck.
Find The Best Food Truck In Denver for Your Wedding
Whether you're looking for a gourmet food truck or something more simple and classic, like a Denver taco truck, you have plenty of options for bringing some delicious food to your wedding. Choose from a wide variety of cuisines, and make sure the food reflects what you and your partner love to eat!
Love Pop Catering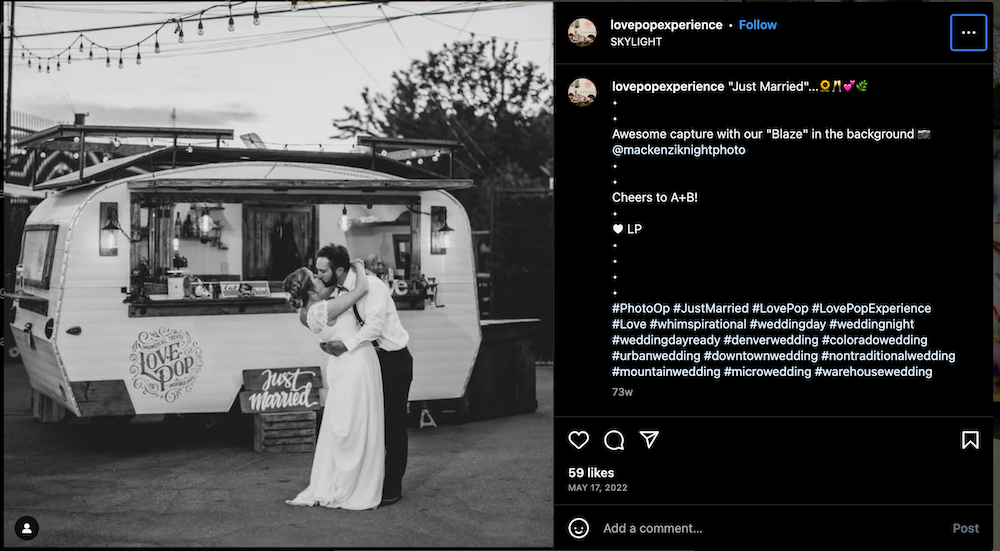 Love Pop is a one-of-a-kind retro food truck experience in Denver! Providing your favorite desserts, inspired food, and thoughtful service, Love Pop are rockstar catering professionals. It's never been easier to get exactly what you want — including tacos! — for your event catering. Work with their team to design a custom food truck menu including all of your favorite foods, and let them handle the setup and everything that comes with it.
Mountain Crust
Mountain Crust Catering is a full-service catering company providing wood-fired pizza, salads, and seasonal appetizers from their resorted vintage Ford trucks and trailers. Mountain Crust uses high-quality ingredients, making authentic thin-crust pizzas, and is committed to creating zero waste by using real plates and cutlery. Great food = happy guests!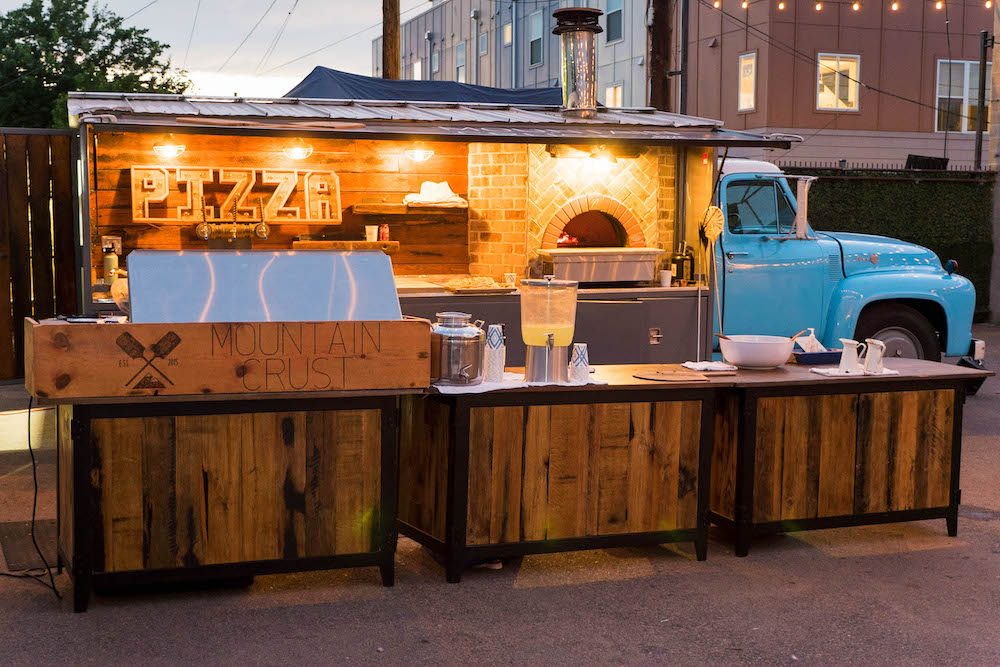 The Brutal Poodle
A brick-and-mortar restaurant that has made its way onto the food truck scene, The Brutal Poodle is known for heavy music, handcrafted grub, and a love for Man's Best Friend. Their mouth-watering comfort foods such as egg rolls, burgers, mac n' cheese, and more, will give your guests a truly epic catering experience!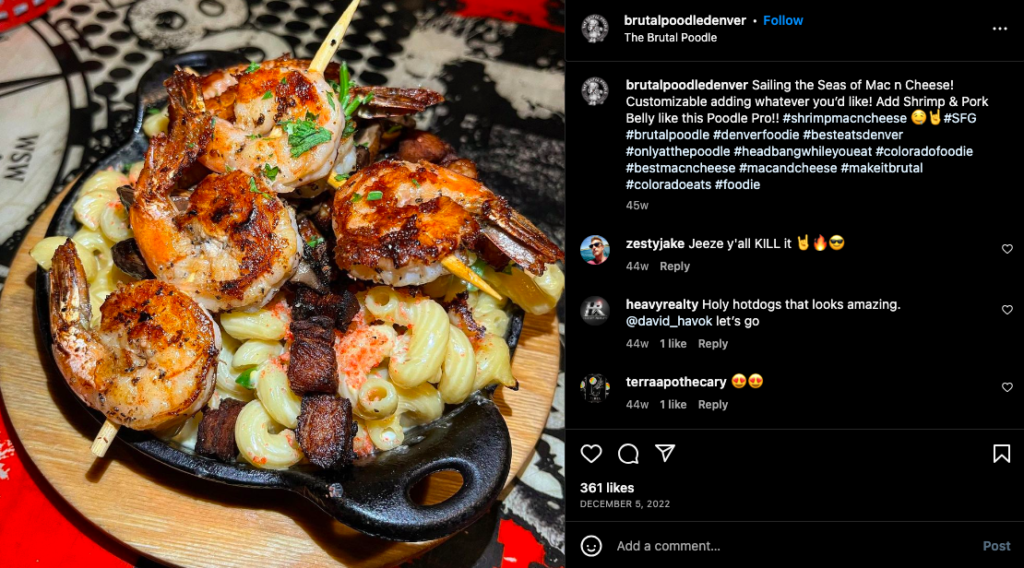 Steuben's
Steuben's unveiled its first food truck in 2010 as part of Denver's street food revolution. The crew at Steuben's food truck brings many of their beloved brick-and-mortar specialties to life in the truck. Favorites include the Monte Cristo, famous burgers, green chili cheese fries, and more.
Dapper Doughnut
Surprise your guests with hot-fresh doughnuts, made to order! Dapper Doughnut caters events, from large festivals to weddings, to birthday bashes, and more.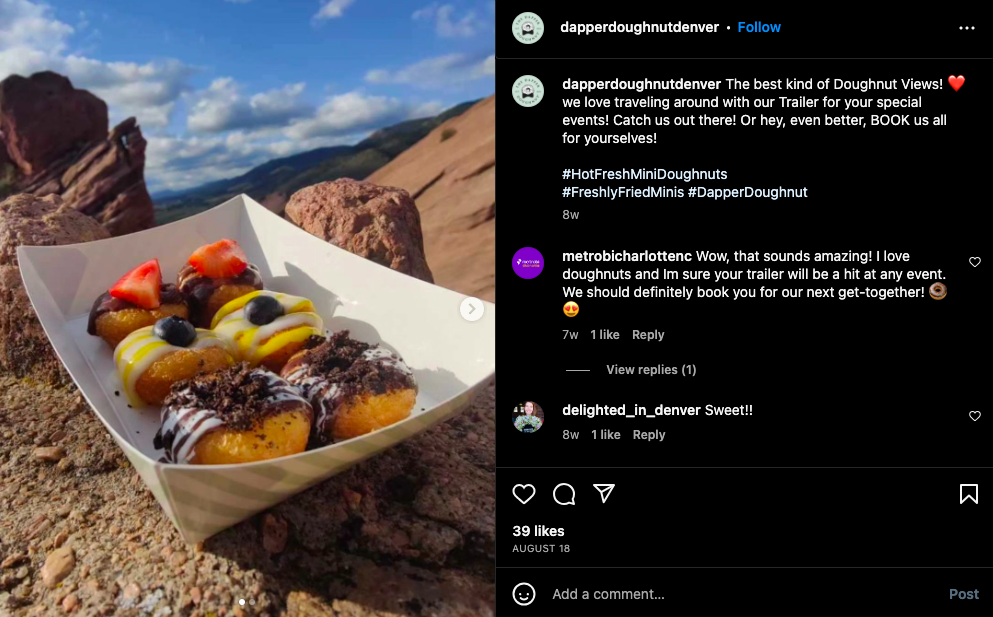 High Point Creamery
Named one of Denver's top food trucks, High Point Creamery's #BigPinky truck has been cruising through Denver since 2015. This bright pink truck offers both unique and traditional ice cream flavors, perfect for Summer events!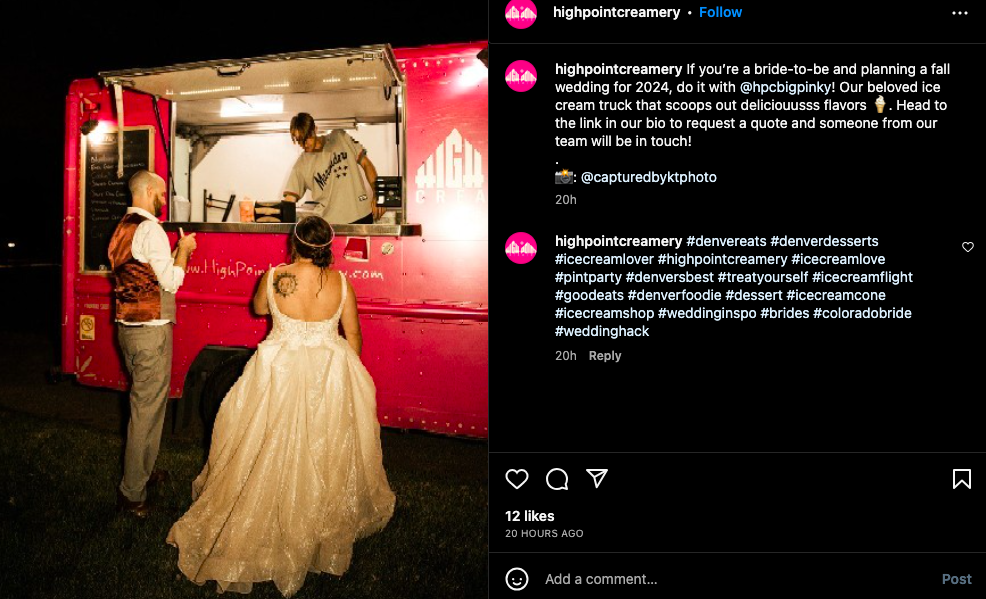 Outside Pizza
Outside Pizza's vintage camper trailer is a fully functioning pizza-making machine! Complete with everything needed to create delicious Neapolitan-style pizzas, this is a great food truck to rent for your wedding!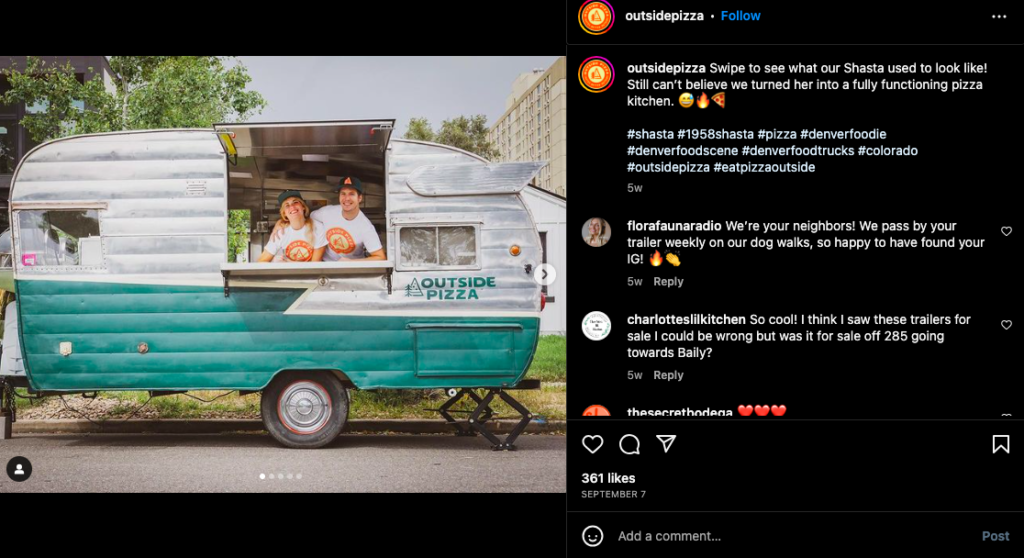 Is a Food Truck The Ultimate Catering Package for a Wedding?
SKYLIGHT clients have been incorporating food trucks into their weddings and other private events since we opened.
While some prefer their main wedding catering meal to be served via food trucks, others opt to have a truck roll in (pun intended) to our patio space while the reception is going on as a surprise for their guests. From cocktail hour to late-night snacks, there's always a way to incorporate a food truck to cater a portion of your day.
Incorporating different food trucks can also create a unique experience for your guests. Have questions? Let SKYLIGHT help you find the perfect fit to cater your next event.
Book The Best Denver Food Trucks for Your Wedding
Sold on food trucks as being the best catering option for your wedding? Get in touch with SKYLIGHT today to work with us on finding the best food truck catering in Denver for your special day.