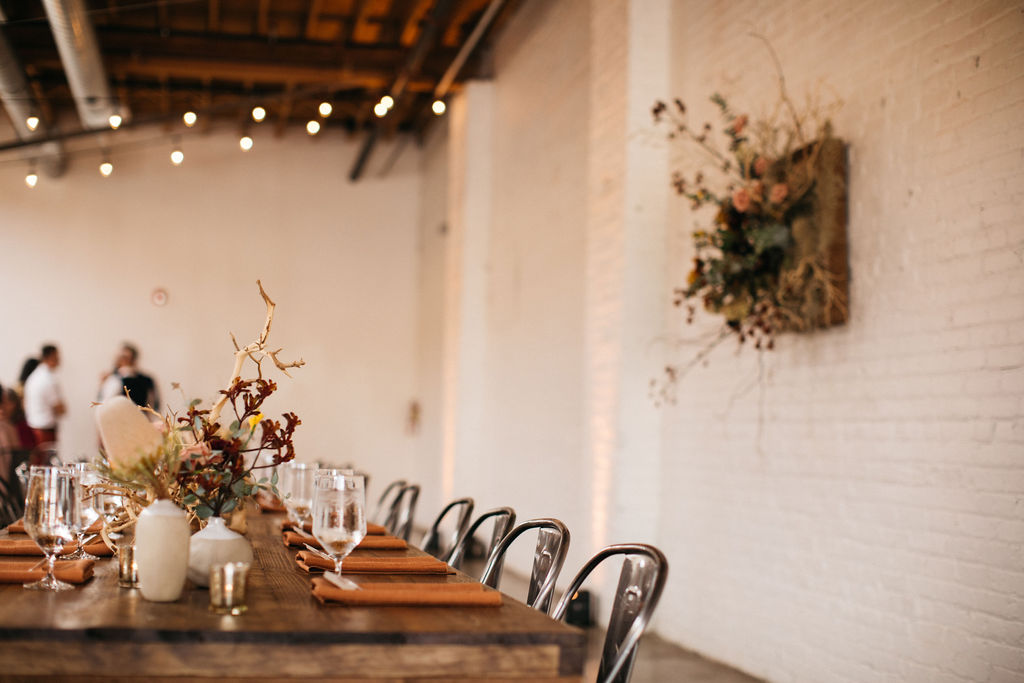 Our most frequently asked questions that include information about our space, layouts, what's included in your venue rental, policies and logistical questions. If you think of anything else, please don't hesitate to ask!
SKYLIGHT has a flexible vendor policy so that you are able to customize your event to your liking!
Are there any In-House/Exclusive partnerships?
SKYLIGHT Beverage is our in-house, customizable beverage provider, and we have to say, it's pretty epic. We also offer planning as an optional add-on service.
What are vendor load-in and load-out times?
If you have a 24-hour rental, vendors can load in at 10AM the day of your event, and can load out until 10AM the following day. For hourly rentals, your vendors will need to load-in and out within your contracted time. Just let your Client Concierge know if you need more time.
What are the vendor's insurance requirements?
We require proof of liability insurance, which any licensed vendor will have anyway!
what is your vendor policy?
what is skylight's capacity?
SKYLIGHT can accommodate 200 guests for a seated event and much more for a cocktail style reception with limited seating.
When you book SKYLIGHT, you get the venue, including the outdoor private patio and client suite, tables and chairs, cocktail tables, market lighting, your very own personal Client Concierge and Beverage Manager, and access to Walk Through Wednesdays every week. Our other amenities, including our photo booth, planning, and beverage service, are optional add-ons for an additional cost. Click here to see the full list of our extra services.
what is included in my rental vs. extra?
We offer flexible rental windows - anywhere from hourly, to 24 hours, to multi-day depending on your needs. Hourly rentals may not be available on prime weekend days.
24 hours? 24 Hours. If you book your rental for 24 hours, you get the venue from 10 AM the day of your event, until 10 AM the following day. Yes, you read that right. The 24-hour rental gives you more than enough time to set-up, party, and tear down.
Is there a curfew? There is no curfew inside. Party as long as you want but we do have to stop the service and consumption of alcohol at the locally mandated time and comply with local noise ordinances.
Can my vendors and I come back in the morning to get our belongings? Can my vendors come back in the morning and get theirs? If you book a 24-hour rental, then yes and yes. We do suggest you appoint someone to take gifts and any personal items home the night-of.
Our Client Concierge team will be your venue representative from the moment you book and throughout the planning process, and will be there on event day to ensure the venue functions perfectly for your event.
The Event Manager arrives once alcohol starts flowing, to ensure we have a dedicated person for facility needs.
Our Planning services are additional fee, and are 110% worth it. Our planners give you your life back, and ensure that your event goes off perfectly. They will stay the entire evening, and handle everything from your setup and flip, to vendor logistics, to getting you down the aisle — even if your ceremony is offsite.
who will be there the day of my event?
We have a parking lot that clients can secure for their event, located about 1.5 blocks from SKYLIGHT. Guests can park overnight. There is also free street parking available within 3 blocks, or you can catch rideshare so you can travel worry-free.
when can we do the rehearsal?
You can typically rehearse the day before your event; timing depends on if we have an event that day. If we do have an event the day before, your rehearsal will be before 10AM. If our schedule is open, we can be more flexible!
You and your vendors will handle set-up and remove what they brought into the venue. We include clean-up (sweeping, mopping, bathrooms) in your rental. All personal or event items must be removed by the end of your rental.
If you book SKYLIGHT Planning services, your planner will handle your personal items and manage all your vendor expectations.
who handles set-up and clean-up?
how should I layout my event?
Your Client Concierge/Planner will advise you on any do's/don'ts for your floor plan.
are there any close-by hotels?
Most definitely. We offer a range of planning services to meet your planning needs from month-of to full-service and everything in between. You can learn more about our planning services here.

Who would my Planner be? We have a team of trained planners that will assist you throughout the planning process and on event day to ensure your event happens without a hitch.
What if I am not going to have my event at SKYLIGHT? We love to plan and work events throughout the Denver area. Just shoot us a message and we can chat about the details.
DO YOU OFFER ANY HELP WITH PLANNING?