The holiday season is the perfect time to gather with colleagues and friends, and celebrate all of your hard work from the past year.
For companies based in Denver, there's no shortage of venues, restaurants, breweries, and activities to serve as the perfect stage for holiday events. And as one of the best holiday party venues in the Mile High City, we know a thing or two about hosting the ultimate office holiday party in Denver.
So, if you're in charge of planning this year's party and are looking for some exciting ideas to make this year's festivities memorable, we've got you covered!
From unique venues to delicious food experiences, here are eight fun holiday party ideas in Denver to create a festive atmosphere and spread some holiday cheer.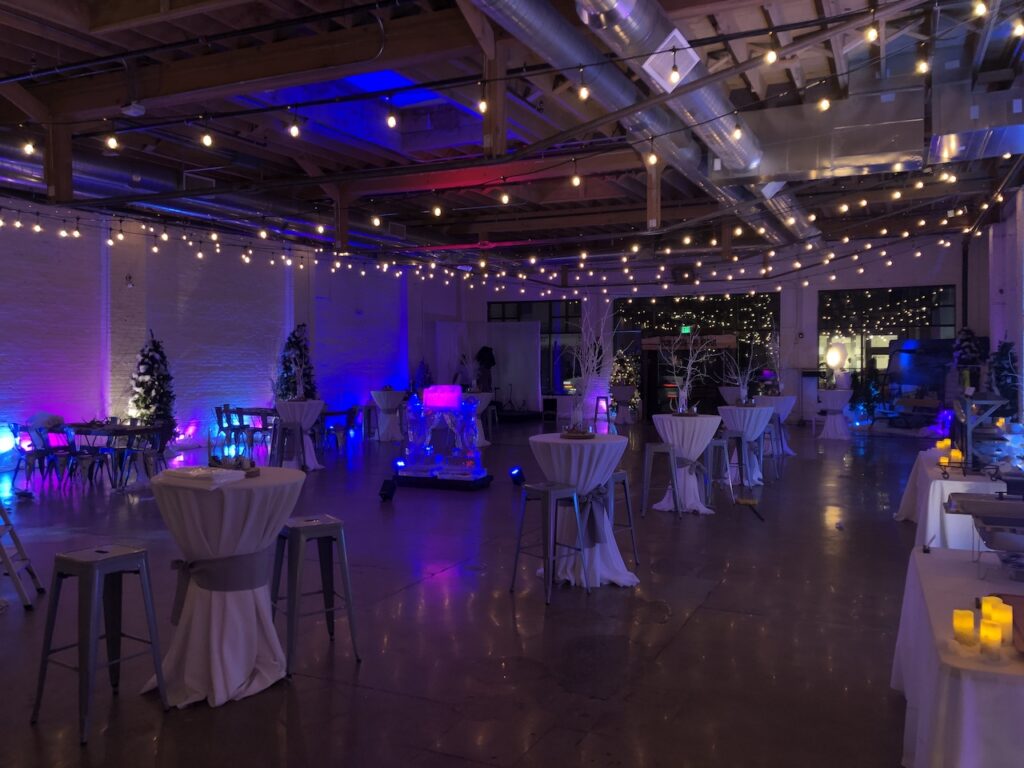 1. Festive Activities at Denver's Union Station
Immerse yourself in the holiday spirit by hosting your company party at Denver's Union Station. Located in Downtown Denver, this iconic landmark is adorned with beautiful decorations during the festive season, including a magnificent Christmas tree in the Great Hall that serves as a centerpiece for the celebrations.
You have a few options when hosting parties at Union Station:
Keep it casual and have everyone meet at the Great Hall for food and drinks at the Terminal Bar. This makes planning easy because the boss can simply open a tab and employees can enjoy the evening. A downside of this plan, though, is you don't know how busy it will be — which means your party guests may not be all together.
Book a private party with the Union Station staff. If you're hosting a corporate party, this is the route to go and guarantees event space for your guests.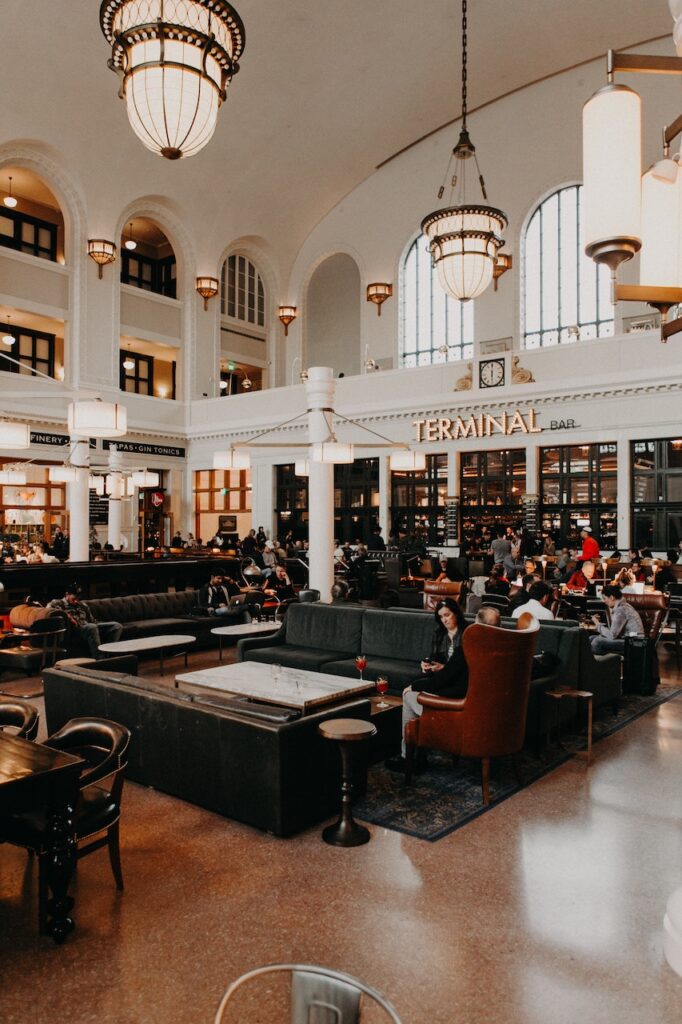 In addition to the Great Hall, the Cooper Lounge, located on the upper floor is one of the more intimate Christmas party venues in the city.
The historic charm of Union Station and proximity to the Denver RTD and makes it an ideal location to celebrate the season with your team.
2. Enchanting Holiday Soiree at Denver Botanic Gardens
Everyone knows the beauty of the Denver Botanic Gardens during the warmer months, but did you also know it's an amazing holiday party venue?
With its stunning botanical displays and vibrant holiday lights, the garden becomes a magical wonderland during the holiday season. Create a memorable evening by organizing a private event amidst the beautiful flora and fauna. Your team can enjoy strolling through the illuminated paths, sipping warm cider or mulled wine, and delighting in seasonal treats.
The Denver Botanic Gardens provides a picturesque backdrop for your holiday party, offering a unique and unforgettable experience for everyone in attendance.
3. Book a Private Holiday Party at SKYLIGHT
Hey, that's us!
While we're not huge fans of tooting our own horns, we wouldn't be giving you a complete list of Denver holiday party ideas without mentioning our modern venue — where we just happen to host a lot of company parties during the holiday season.
SKYLIGHT is a holiday party venue in Denver located in the city's Art District on Santa Fe. Consistently named as one of the best places for companies to rent in Denver, SKYLIGHT features a contemporary design and versatile layout. We are available for private parties and can handle groups both large and small.
There are three big advantages of hosting an office Christmas party at SKYLIGHT:
Seamless Planning and Execution. You don't need to go it alone when planning your group's holiday party. Our team of event experts is with you the entire way to make sure everything goes off without a hitch.
Flexible Arrangements and Versatile Space. Want to have a lot of activities at your party? No problem. Or maybe you want to keep things a bit more intimate and laid back. We've got you! Our space can be transformed into almost anything you can dream up.
Services and Amenities. Because we're in the events and party business, we're big on services and amenities. Need a festive cocktail? Our beverage team can help with that. Want a photo booth to send guests home with some memories? We can provide that, too. Check out our entire list of amenities.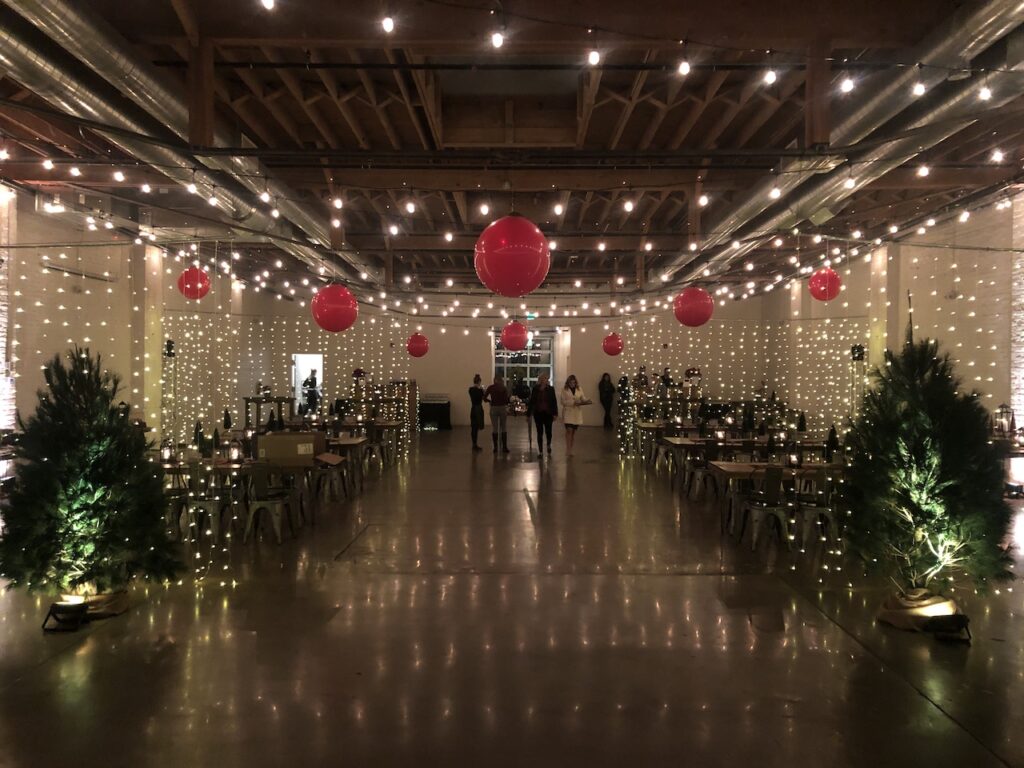 4. Downtown Denver Brewery Hop
Take your party to the heart of Downtown Denver and embark on a holiday brewery hop.
Denver is renowned for its vibrant craft beer scene, and what better way to celebrate the season than by exploring some of the city's newest breweries?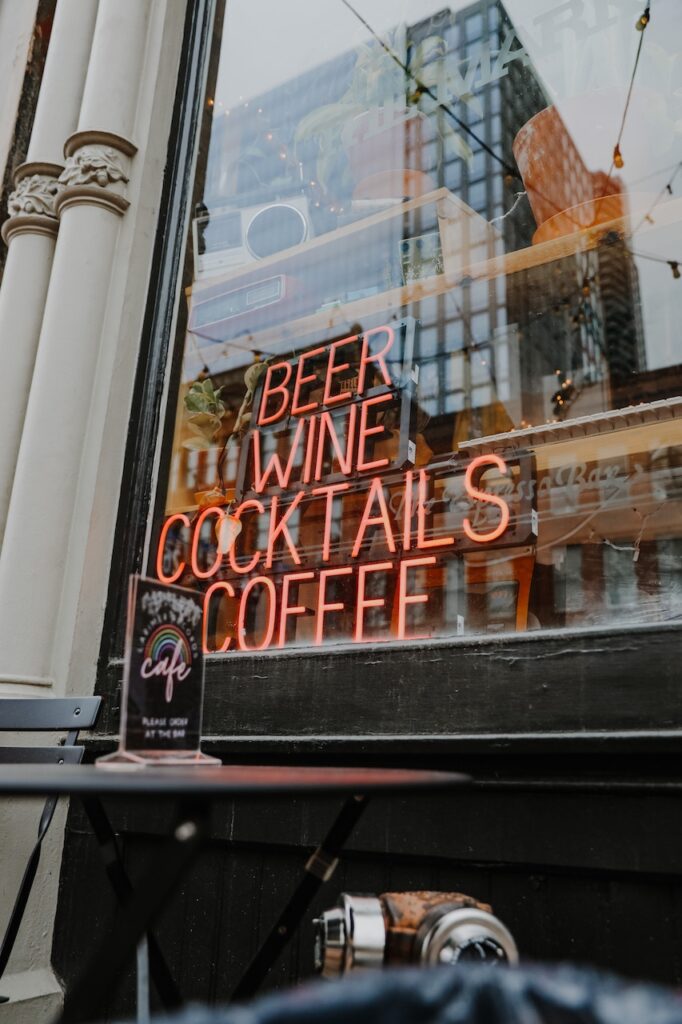 You have a handful of options, including the LoDo Craft Beer Tour, which includes stops at Wynkoop Brewing Co., Great Divide, and Denver Beer Co., and the RiNo Brewery & Graffiti Tour, which was actually mentioned in a 2021 New York Times feature on Denver.
Most of the breweries can accommodate a larger party, but you may want to call ahead to make sure there's space for your group size.
5. Foodie Tour: Explore Denver's Newest Culinary Delights
Indulge in a foodie tour that showcases Denver's culinary prowess by visiting recently opened restaurants from the past year.
From innovative concepts to diverse flavors, Denver's dining scene has something to offer every palate.
Either pick one restaurant to enjoy, or find a few in the same neighborhood and try them all during the night — similar to a brewery tour.
6. Winter Wonderland Themed Casino Night
Bring the magic of a winter wonderland to your corporate holiday party with a themed casino night.
Of course, you'll need a place to host, but once you figure that out (again, we can help!), it's time to bring a little bit of Vegas to the Mile High City.
First, transform your venue into a frosty paradise, complete with shimmering decorations, twinkling lights, and snow-inspired table settings.
Next, set up classic casino games like blackjack, poker, and roulette, and provide guests with play money to get into the gambling spirit. We recommend hiring a third party vendor to run the casino games so no one on your team has to worry about it.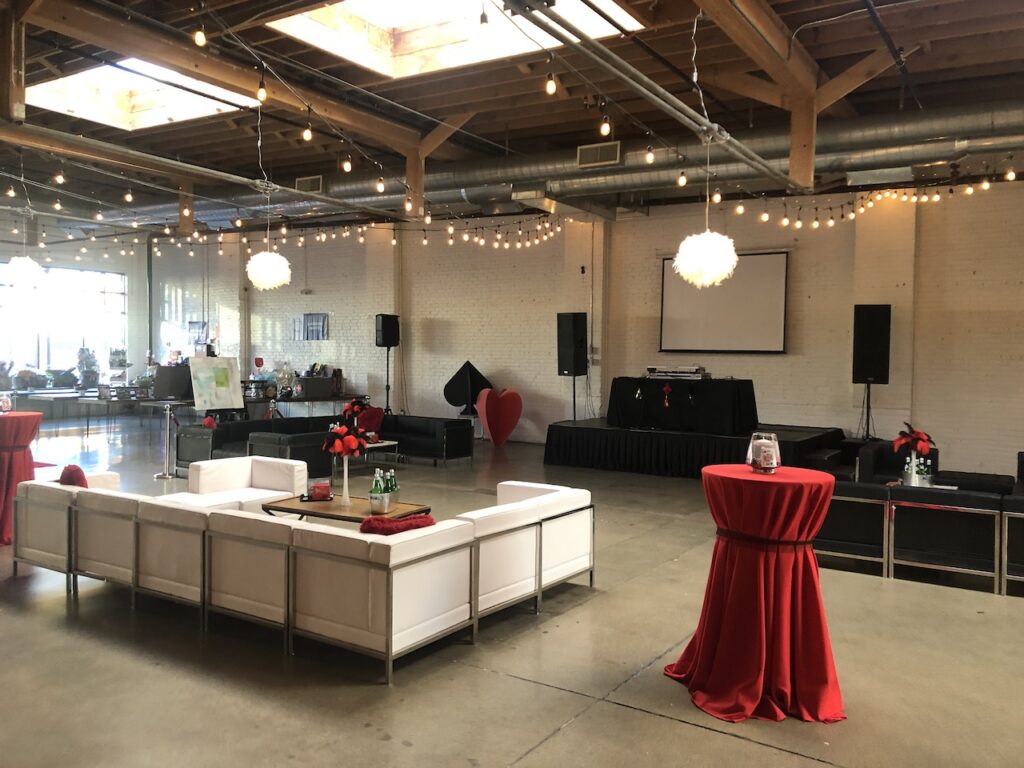 Award prizes to the biggest winners at the end of the night and create a memorable experience filled with laughter and friendly competition.
7. Ugly Sweater Karaoke Bash
Combine the popular tradition of wearing ugly holiday sweaters with a night of karaoke for a hilarious and entertaining company holiday party.
Encourage everyone to don their most outrageous and festive sweaters, and take turns on stage showcasing their hidden vocal talents.
Denver is home to a host of karaoke bars, including Muse Karaoke Bar, Family Karaoke, and the ever-so-popular Punch Bowl Social. Of course, SKYLIGHT's blank canvas event space can be turned turn into a karaoke bar, as well!
Create a playlist of holiday classics and crowd-pleasing hits to keep the party atmosphere lively. Award prizes for the best sweater and the most impressive karaoke performance, making it a night of laughter, live music, and unforgettable memories.
8. Festive Volunteer Day
Embrace the spirit of giving back during the holiday season by organizing a festive volunteer day for your company.
Partner with local charitable organizations like the Denver Rescue Mission or Food Bank of the Rockies to plan a day of community service.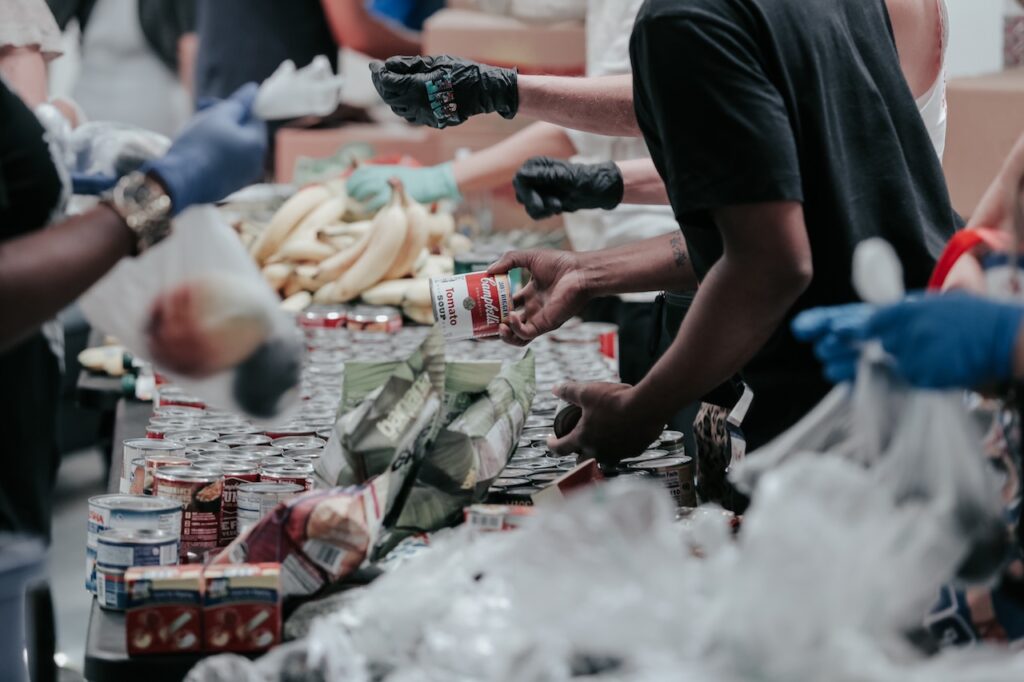 Whether it's serving meals to the homeless, organizing a toy drive, or wrapping gifts for those in need, this meaningful holiday party idea will not only bring your team together but also make a positive impact on the community.
Plan Your Denver Holiday Party Today
Planning a company holiday party should be exciting, not overwhelming. With so many options in Denver, it's important to choose a venue that offers a stress-free experience.
When it comes to booking an event, SKYLIGHT is here as a premier holiday party venue, waiting to help you create a memorable event.
Contact our dedicated team today to learn how SKYLIGHT can make your holiday party extra festive.